SALLI RICHARDSON-WHITFIELD doesn't talk about Winning Time: The Rise of The Los Angeles Lakers with the Lakers—the real Lakers. Even though she executive produces the HBO dramedy and has directed five episodes, including the Season 2 finale, she doesn't bring up her work on the show when she's golfing with Byron Scott or hanging out with Magic Johnson and Michael Cooper Jr. "It's almost like the thing that when I'm around, we don't speak of the show," Richardson-Whitfield tells Men's Health.
She understands why. She's effectively reimagining the real-life heartache, triumph, and secrets that forged not only the person the world knew but the men they privately grew into. The show is a balancing act of that duality, a balance Richardson-Whitefield attests is achieved by extracting the intent from history. The Season 2 finale is full of a Jerry Buss (John C. Reilly) and Honey Kaplan (Ari Graynor) legal standoff we've never seen and the Celtics' air conditioner sabotage in the 1984 NBA Finals that was never proven. "Our writers work hard at getting the intent right. We have Jeff Pearlman's book, which is amazing. A lot of these players have written their own books. So. there's a lot to choose from when you're trying to craft who these people are."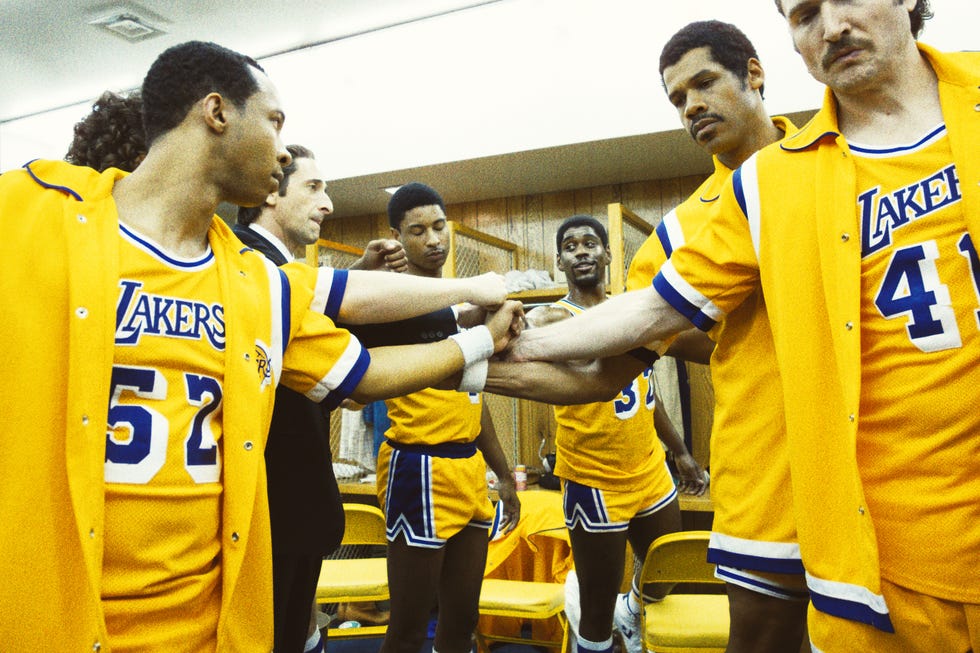 HBO
Outside of what was mentioned earlier and a few private conversations in the Lakers' front office, the Season 2 finale mirrored the real-life events of the 1984 NBA Finals. But, even if certain real-life Lakers alum finds an issue with Winning Time's characterization of them, she knows it's closer to reality than they may want to admit. "When [Michael Cooper Jr] found out I did the show, he got up and left, and then he came back and said, 'Why did you do this? Why did you do that,' she laughingly says. "When Coop hears this, he'll be mad. When he was talking to me, I told him, 'You sound really close to this guy we've been doing.'
While Season 3 may be hypothetical, Season 2's finale has easter eggs and deeper meanings only someone as intimately connected to the show as Richardson-Whitfield can explain.
How Did Season 2 End?
Winning Time's second season ended the same way it started, with the Los Angeles Lakers rushing out of Boston Garden to their team bus like thieves in the night after stealing a win against the Boston Celtics in Game 1 of the 1984 NBA Finals. Then, for the majority of the season finale, the real-life theatrics of the 1984 NBA Finals begin to unfold. Kevin McHale's (Andrew Stephens) infamous Game 3 fastbreak clothesline on a leaping Kurt Rambis (Joel Allen) received the dramatic slo-mo treatment to emphasize the bone-crunching impact of Rambis's back on the hardwood. Boston Garden's conveniently broken air conditioner in Game 5 that slowed down the Showtime Lakers in oppressive heat, rumored to have been deviously orchestrated by Celtics coach Red Auerbach, was front and center. The 1984 NBA Finals had enough villains, heroes, and mishaps to have been the entire second season of Winning Time.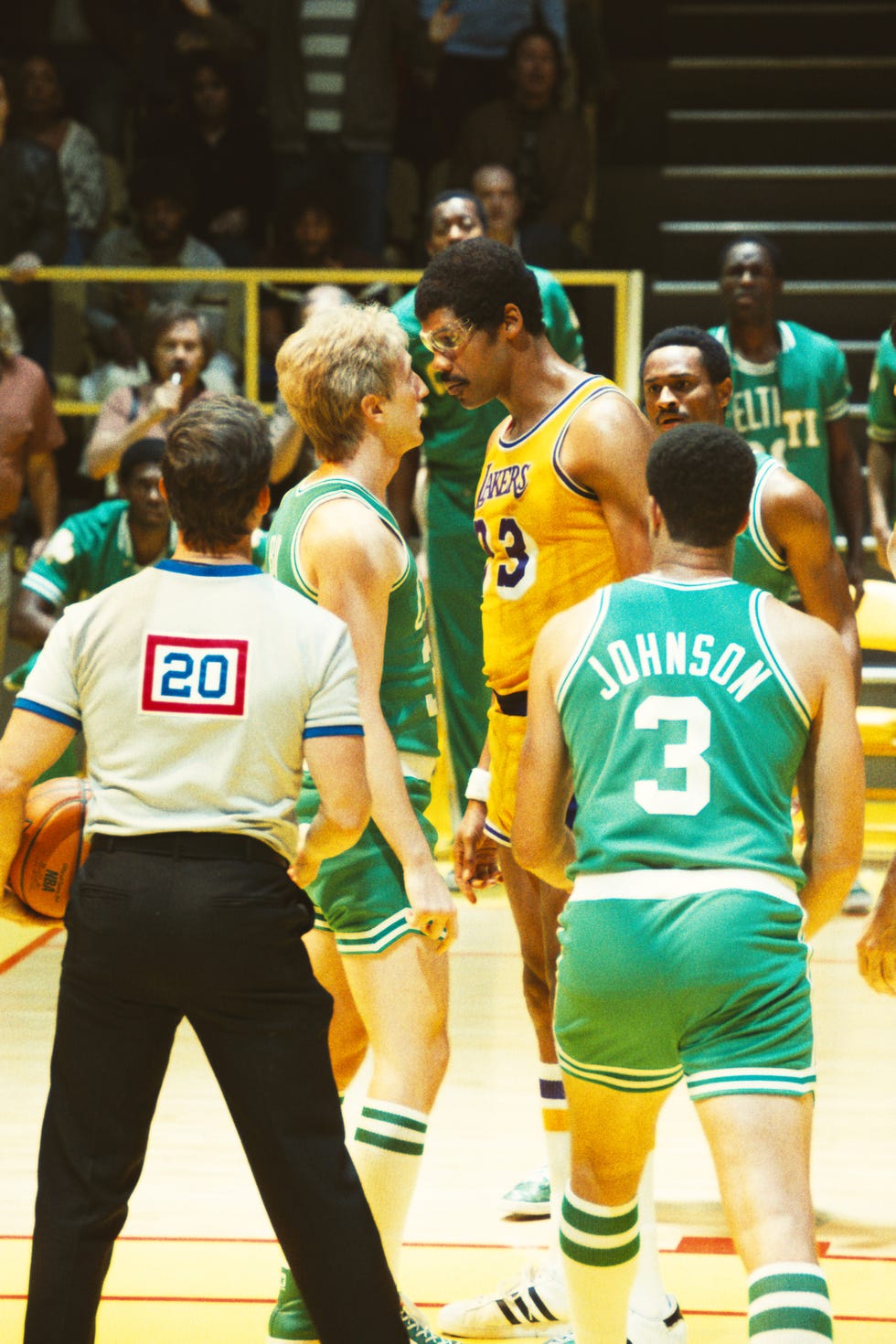 HBO
But, if you're a sports fan, have access to Wikipedia, or were of drinking age in the '80s, you already know the 1984 NBA Finals ended with the Lakers losing to the Celtics in seven games. That's exactly what happened at the end of this season, but Winning Time brought viewers into the solemn Lakers locker room in the aftermath of the loss. No one says a word, and the last image we have is of a dejected Johnson, still in his jersey, sitting barefoot in a decrepit shower, wallowing in the loss and what it means for his future.
"What was special about this year was the storytelling and learning more about these people and being really invested in what's going on in their lives. That's why we end on the emotional trauma or drama that's going on inside of Magic," Richardson-Whitfield says. "I think it was important to not just make this a gimmicky basketball show. It's really about people and storytelling, and then the basketball is the backdrop."
What Happened To Honey?

As much as the Lakers vs. Celtics matchup in the 1984 NBA Finals was the central conflict of the season finale, the most heartbreaking fight happened off the court. Winning Time breakout star Honey Kaplan (Ari Graynor) stormed out of Buss's palatial mansion in the penultimate episode once she found out the Lakers owner is still legally married to his ex-wife, JoAnn Mueller. In the season finale, she and her lawyers went into the Lakers front office in the middle of the 1984 NBA Finals to sit Buss down and lay down her $100 million lawsuit against him for defrauding Honey. Lying in a relationship doesn't sound like grounds for legal action until Honey utters the only words she does in the season finale to pick apart the illusion that is Jerry Buss.
"You conned me into giving everything up to dive into your bullshit fantasy because that is what you do to people," she says. "You're a fraud, Buss. You've always been a fraud. I'm just the first person to make you pay for it."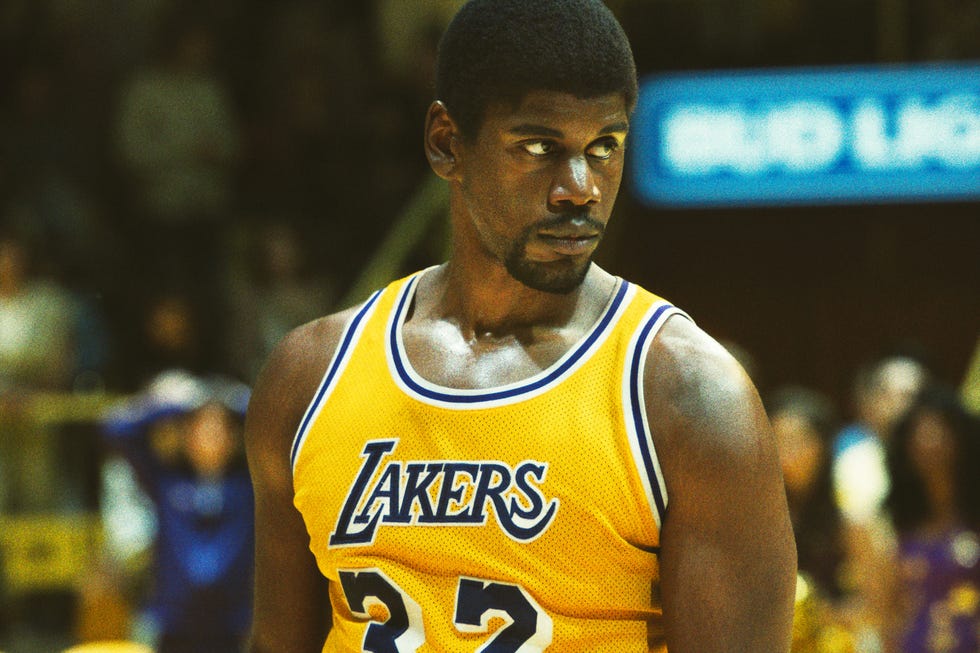 HBO
Buss never had a love interest named Honey Kaplan outside of Winning Time, and it's that scene where her true purpose in the show is salient."I think that Honey's character is more showing things about Buss than the actual relationship. She's showing what kind of man he is, his selfishness," Richardson-Whitfield explains. "Honey is really more of a tool for us to learn more about the man Jerry Bus and the ego and vision of Jerry Buss."
What From The Season 2 Finale Really Happened?
As chaotic as the 1984 NBA Finals were depicted in Winning Time, they were just as shocking in real life. Kareem Abdul-Jabbar (Solomon Hughes) needing an oxygen tank on the bench and Buss being sued for $100 million on the grounds of defrauding his wife are surprisingly close to the truth. The Winning Time team also made a point this season to pause certain moments to notify viewers that what they're about to watch actually happened, which came in handy after the Celtics fans stormed the Boston Garden floor after the team beat the Lakers. As Lakers players tried to find their way to the locker room through the deluge of ravenous Bostonians, Abdul-Jabbar Kurt Rambis found themselves punching fans to get away. You may see a brawl, Richardson-Whitfield sees hours of painstaking attention to minute details to recreate history.
"You can look at it and almost not be able to tell if it's real footage or not. We really pride ourselves on the stuff we're recreating. When you look at the [real] footage, we want you to go, 'Oh my God, they even have a guy in a red shirt there. And that sign was there and his mother was there. So I'm very proud of that scene. It took a lot of work."
Ulimately, that'll be the lasting legacy of Winning Time: a remix of the past. "You never know exactly what those conversations were in a room, but that it happened, and you know what led up to it. So you can dramatize what you imagine could have happened."

Senior Editor
Keith Nelson is a writer by fate and journalist by passion, who has connected dots to form the bigger picture for Men's Health, Vibe Magazine, LEVEL MAG, REVOLT TV, Complex, Grammys.com, Red Bull, Okayplayer, and Mic, to name a few.