Image: Michael Ansaldo/Foundry
At a glance
Expert's Rating
Pros
Extensive set of tools for working on professional PDF documents
Preserves document formatting after edits
Less expensive than Adobe Acrobat
Cons
Interface can feel overly complex
Requires subscription
Windows only
Our Verdict
WinZip PDF Pro offers a full set of tools for editing personal and professional PDFs at a fraction of the price of Adobe Acrobat. Its interface can feel challenging at the beginning, but PDF power users should find much to like if they stick with it.
Best Prices Today: WinZip PDF Pro
For three decades, WinZip has been synonymous with file archiving and compression software, so you'd be forgiven if you didn't know the company also makes a PDF editor. WinZip PDF Pro is an all-in-one tool for reading, editing, merging, and collaborating on PDF documents. And like WinZip's flagship product, it's a stalwart solution despite a few quirks.
The Windows-only WinZip PDF Pro has a deceptively complex interface. Indeed, I had to make heavy use of the user manual that opens when you first launch the app to understand and navigate all the parts.
The main component of the interface is what WinZip calls the Action Toolbar, a row of large-button "actions" containing the editor's primary functions. The labels for these—Read, Comment, Edit, Organize, and so on—are self-explanatory and make it easy to find any given toolset. A second toolbar called the Status Bar, containing a variety of shortcuts to helpful tools, appears below each open document's tab. The icons in the Status Bar change depending on what action icon you select.
Further reading: See our roundup of the best PDF editors to learn about competing products.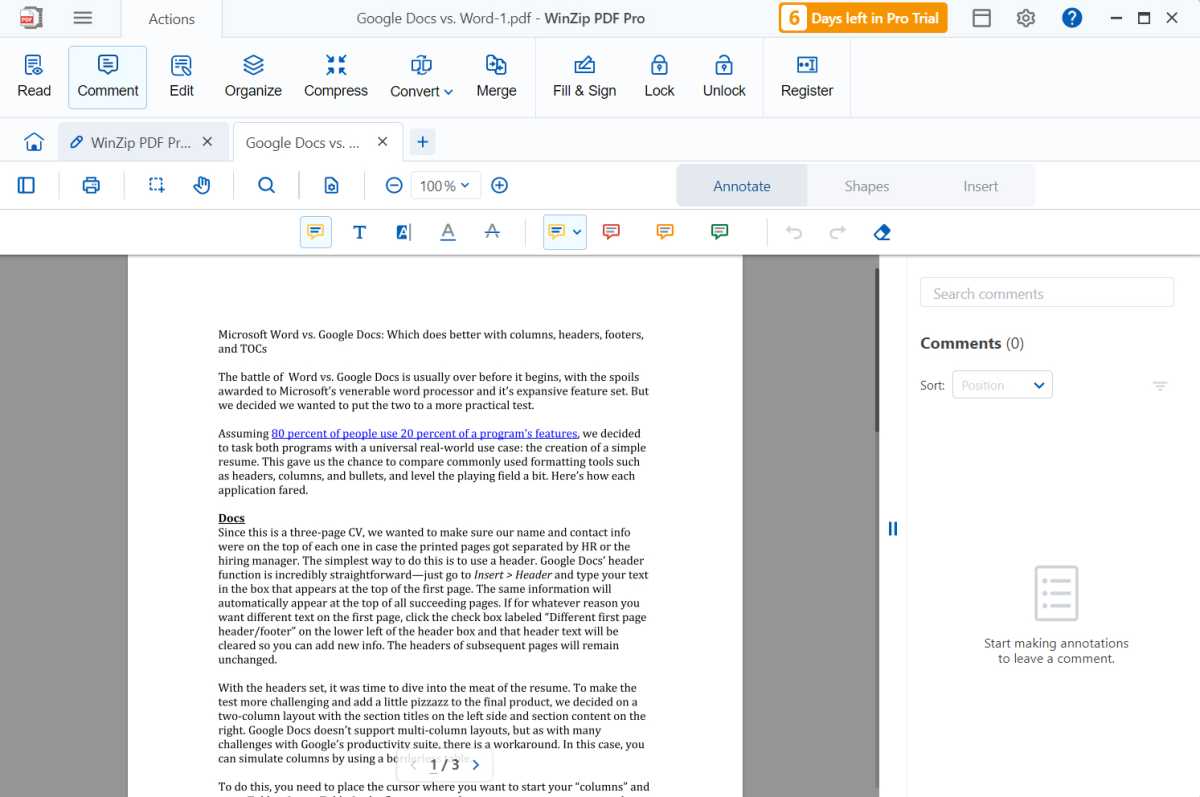 Michael Ansaldo/Foundry
When you open a document, another toolbar called the Tab Bar appears, showing the document's name as well as another row of icons with tools for scrolling, reorienting, searching, and printing the document. There's also a Quick Access Panel on the Home tab where you can open PDF files and add your most used features and sub-features as shortcuts. Finally, there's the Menu, represented by three parallel lines at the top of the workspace, that provides further options when you click on it.
To navigate an open document, there is a left panel that can be displayed by clicking the corresponding icon in the Tab Bar. Thumbnails of the document's pages are displayed here so you can quickly jump between them. You can also organize and extract pages from here and view outlines, add signatures, and attached files from here.
WinZip PDF Pro is loaded with all the features a PDF power user needs, including a full set of markup tools, file conversion options (all Microsoft Office formats are supported as well as multiple image formats), fill and sign capabilities, and tools for securing sensitive documents such as password protection and text redaction. But sometimes they're not where you might expect to find them. For instance, the tool to insert an image in a document is found under the Comment action with the markup tools rather than in the editing toolset as it is in other PDF editors. This coupled with the editor's multitude of toolbars can feel overwhelming when you first start working with the editor.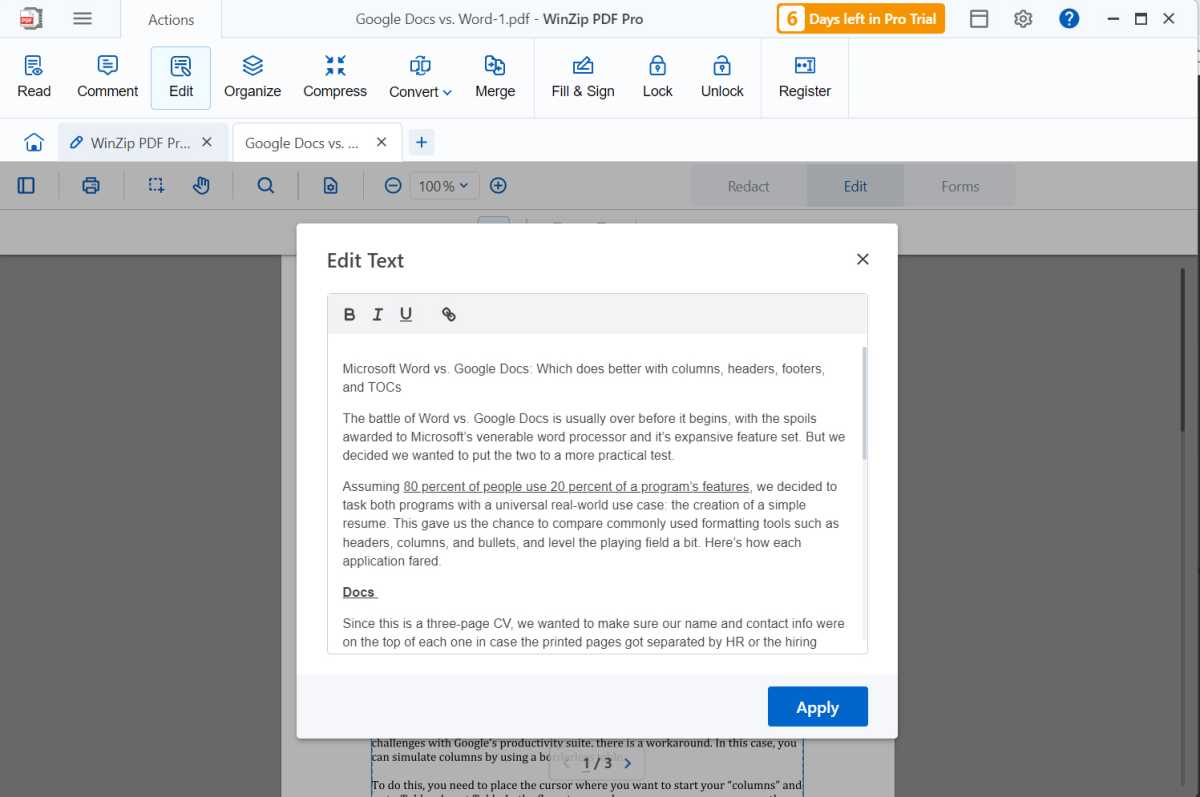 Michael Ansaldo/Foundry
Editing the text content of documents also takes some getting used to. My favorite PDF editors allow you to make text changes directly on the page as you would in a Microsoft Word document. But WinZip PDF Pro takes a different approach. You first have to select the edit icon from the Edit action Status Bar, which surrounds each page of text in a text box. Then you must double-click on the text box containing the content you want to make changes to, which opens that content in a popup window. Once you're done making changes, you click the Apply button to commit them and close the window.
There's always a risk that any edits you make to an existing PDF will negatively alter its formatting—indeed, the first time you edit a PDF in WinZip PDF Pro a pop-up banner warns you of this—and I didn't like that I wouldn't see that until I'd committed my edits. Fortunately, the editor consistently maintained the original document formatting in all my tests.
Should you get WinZip PDF Pro?
WinZip PDF Pro is offered as an annual subscription for $75 a year. That includes all its features, even the ones you may not use, so it's worth considering how much PDF power you need before purchasing. You should also take advantage of the free, no-commitment 7-day trial, which lets you test-drive all the features. If you like WinZip PDF Pro's capabilities and you can live with its peccadilloes, you should find it a capable Acrobat alternative. But we don't count it among the best PDF editors.
Best Prices Today: WinZip PDF Pro
Michael Ansaldo is veteran consumer and small-business technology journalist. He contributes regularly to TechHive and PCWorld.