Greenville, S.C. is one of the two regions in this season's new format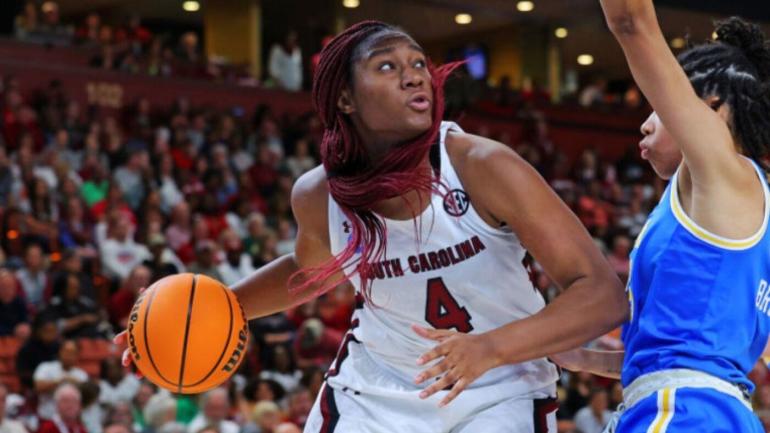 Getty Images
The Sweet 16 is set after a wild first weekend of the tournament. No. 1 overall seed South Carolina still stands in the Greenville 1 Regional, while No. 1 seed Indiana is out in the Greenville 2 Regional. 
The Gamecocks opened second-round play with a win and will meet the final team to advance to the Sweet 16 — the No. 4 seed UCLA Bruins who got a career night from Charisma Osborne (36 points) to knock off No. 5 seed Oklahoma. In the other Greenville 1 Regional semifinal, No. 2 seed Maryland will take on No. 3 seed Notre Dame. Maryland knocked out Arizona in the second round, while the Fighting Irish beat Mississippi State. Notre Dame will be without all-everything point guard Olivia Miles, who'll miss the NCAA Tournament with a knee injury. 
In 2023, Cinderella is wearing a green and orange slipper as the No. 9 seed Miami Hurricanes are headed to the Elite Eight in the Greenville 2 Regional after a thrilling win over No. 4 seed Villanova, in which the Canes nearly blew a 21 point lead. Miami led 54-33 right after halftime, but a furious late rally from the Wildcats gave them the lead with 49 seconds left, but Miami was able to make some clutch late free throws to win. All three of Miami's games have been within a point in the final minute and the Hurricanes are off to the Sweet 16 for the first time. The nation's leading scorer Maddy Siegrist finished with 31 points, and finished the year with the second-most points (1,050) in a single season in Division I women's history.
Taking on the Canes in the Greenville 2 Regional final are the No. 3 seed LSU Tigers who got another big game from Angel Reese (17 points, 12 rebounds) and a huge game from LaDazhia Williams who scored a season-high 24 points in the biggest game of the year. LSU is off to the Elite Eight for the first time since 2008, and also the first time under Kim Mulkey in her second year in Baton Rouge.
All of the 2023 Women's NCAA Tournament games will air on the ESPN family of networks, and you can stream every game on fuboTV (try for free).  
(All times eastern)
Elite Eight
Sunday, March 26
| | | | |
| --- | --- | --- | --- |
| 7 p.m. | (3) LSU 54, (9) Miami 42 — Greenville Regional 2 | Greenville, S.C. | ESPN |
Monday, March 27
| | | | |
| --- | --- | --- | --- |
| 7 p.m. | (2) Maryland vs. (1) South Carolina — Greenville Regional 1 | Greenville, S.C. | ESPN |
Sweet 16

Friday, March 24
| | | | |
| --- | --- | --- | --- |
| 2:30 p.m. | (9) Miami 70, (4) Villanova 65 — Greenville Regional 2 | Greenville, S.C. | ESPN |
| 5 p.m. | (3) LSU 66, (2) Utah 63 — Greenville Regional 2 | Greenville, S.C. | ESPN |
Saturday, March 25
| | | | |
| --- | --- | --- | --- |
| 11:30 a.m. | (2) Maryland 76, (3) Notre Dame 59 — Greenville Regional 1 | Greenville, S.C. | ESPN |
| 2 p.m. | (1) South Carolina 59, (4) UCLA 43 — Greenville Regional 1 | Greenville, S.C | ESPN |
Second Round
Sunday, March 19
| | | | |
| --- | --- | --- | --- |
| 1 p.m. | (1) South Carolina 76, (8) South Florida 45 — Greenville Regional 1 | Columbia, S.C. | ABC |
| 3:30 p.m. | (3) Notre Dame 53, (11) Mississippi State 48 — Greenville Regional 1 | South Bend, Ind. | ESPN |
| 5:30 p.m. | (2) Maryland 77, (7) Arizona 64 — Greenville Regional 1 | College Park, Md. | ESPN |
| 7 p.m. | (2) Utah vs. (10) Princeton — Greenville Regional 2 | Salt Lake City, Utah | ESPN2 |
| 7:30 p.m.  | (3) LSU 66, (6) Michigan 42 — Greenville Regional 2 | Baton Rouge, La. | ESPN |
Monday, March 20
| | | | |
| --- | --- | --- | --- |
| 7 p.m. | (4) Villanova 76, (12) Florida Gulf Coast 57 — Greenville Regional 2 | Villanova, Pa. | ESPNU |
| 8 p.m. | (9) Miami 70, (1) Indiana 68 — Greenville Regional 2 | Bloomington, Ind. | ESPN2 |
| 10 p.m. | (4) UCLA 82, (5) Oklahoma  73 — Greenville Regional 1 | Los Angeles, Calif. | ESPN2 |
First Round

Friday, March 17
| | | | |
| --- | --- | --- | --- |
| 11:30 a.m. | (8) South Florida 67, (9) Marquette 65 (OT) — Greenville Regional 1 | Columbia, S.C. | ESPN2  |
| 12 p.m. | (7) Arizona 74, (10) West Virginia 62 — Greenville Regional 1 | College Park, Md. | ESPN |
| 2 p.m. | (1) South Carolina 72, (16) Norfolk State 40 — Greenville Regional 1 | Columbia, S.C. | ESPN |
| 2:30 p.m. | (2) Maryland 93, (15) Holy Cross 61 — Greenville Regional 1 | College Park, Md. | ESPNEWS |
| 3 p.m. | (6) Michigan 71, (11) UNLV 59 — Greenville Regional 2 | Baton Rouge, La. | ESPNU |
| 3:30 p.m. | (3) Notre Dame 82, (14) Southern Utah 56 — Greenville Regional 1 | South Bend, Ind. | ESPN2 |
| 5:30 p.m. | (3) LSU 73, (14) Hawai'i 50 — Greenville Regional 2 | Baton Rouge, La. | ESPN2 |
| 6 p.m. | (11) Mississippi State 81, (6) Creighton 66 — Greenville Regional 1 | South Bend, Ind. | ESPNEWS |
| 7:30 p.m. | (2) Utah 103, (15) Gardner-Webb 77 — Greenville Regional 2 | Salt Lake City, Utah | ESPNU |
| 10 p.m. | (10) Princeton 64, (7) NC State 63 — Greenville Regional 2 | Salt Lake City, Utah | ESPN2 |
Saturday, March 18
| | | | |
| --- | --- | --- | --- |
| 11:30 a.m. | (1) Indiana 77, (16) Tennessee Tech 47 — Greenville Regional 2 | Bloomington, Ind. | ESPN2 |
| 2 p.m. | (9) Miami 62, (8) Oklahoma State 61 — Greenville Regional 2 | Bloomington, Ind. | ESPN |
| 2:30 p.m. | (12) Florida Gulf Coast 74, (5) Washington State 63 — Greenville Regional 2 | Villanova, Pa. | ESPNU |
| 5 p.m. | (4) Villanova 76, (13) Cleveland State 59 — Greenville Regional 2 | Villanova, Pa. | ESPNU |
| 9 p.m.  | (5) Oklahoma 85, (12) Portland 63 — Greenville Regional 1 | Los Angeles, Calif. | ESPNU |
| 11:30 p.m. | (4) UCLA 67, (13) Sacramento State 45 — Greenville Regional 1 | Los Angeles, Calif. | ESPN2 |
Our Latest Women's College Basketball Stories