Image: Microsoft
It's a great time to upgrade your storage from a hard drive because solid-state memory prices are absolutely plummeting right now. And that goes double for PC gamers because new titles are starting to require the performance boost that comes with an SSD. Microsoft has released the recommended specs for Forza Motorsport (2023), and the bottom tier demands an SSD with 130 gigabytes of free space for the game to run at all.
This is the second high-profile PC game to require an SSD, following the upcoming Starfield (also published by Microsoft). Forza requires a GTX 1060 or RX 5500 XT graphics card on the lowest settings, which is fairly beefy for a driving game. You'll need an RTX 4080/RX 7900 XT and a fairly recent CPU to hit the "Ultra Settings" level, taking advantage of tech like DLSS 2 or FSR 2.2 upscaling.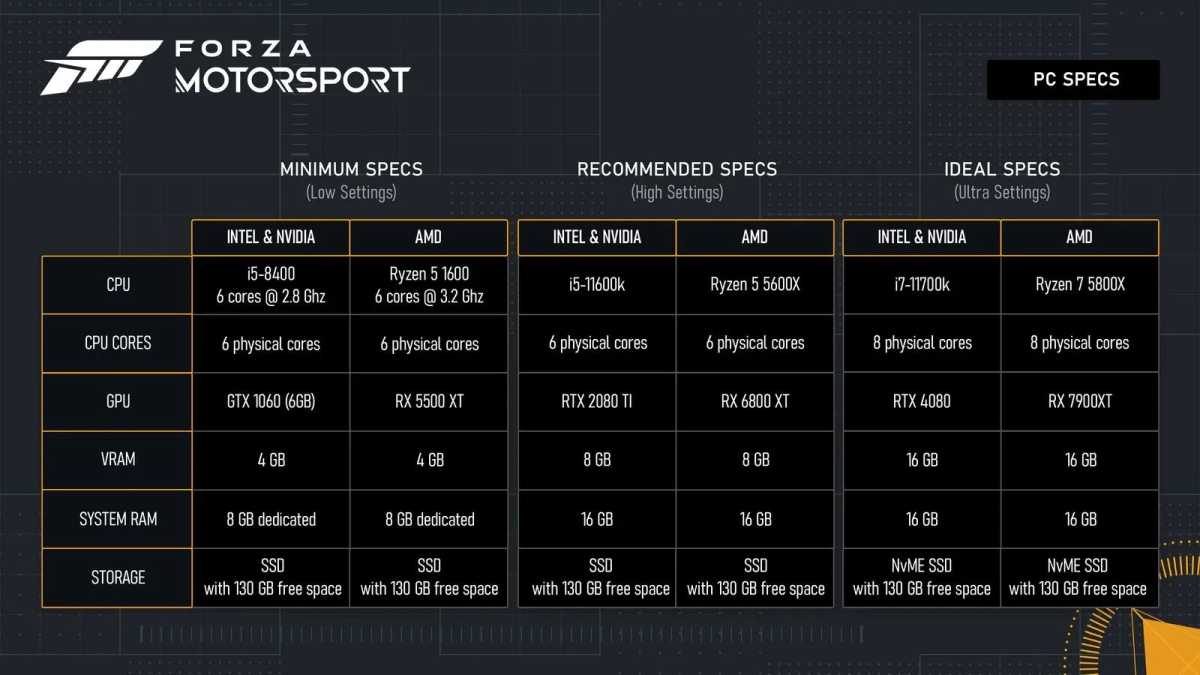 Microsoft
You might be wondering why any game needs ultra-fast storage, as opposed to a high-end GPU or speedy RAM. After all, you can always just deal with longer load times, right? Not anymore, unfortunately. The demand for SSDs in more PC games can be laid at the feet of Microsoft's DirectStorage technology, which enables ultra-fast communication between the CPU and NVMe SSDs. Notably, the same tech is included in the latest Xbox Series X, where Forza Motorsport 2023 will also be a major release. It's worth noting that, even without the DirectStorage requirement, multiplayer games like racers might just want all players to have fast loading to keep online matches flowing well.
But hey, if you're still rocking a hard drive, it might cost you less than the price of Forza itself to get that long-overdue upgrade. Here's a 1TB Gen 4 M.2 drive for under fifty bucks at the time of writing. And you have plenty of time to install it before Forza Motorsport (or even Starfield) actually arrives on your system.